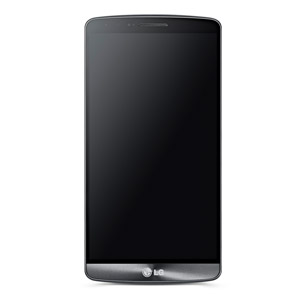 Currently showing deals for:
g3black
Select other variants / colours from the drop-down box to see the best available deals:
Hot on the heels of the highly-regarded and very successful LG G2, the LG G3 is another serious contender from the Korean electronics giant. Packing a Quad HD screen, and the highest pixel density of any current smartphone (due to its slightly smaller 5.5" display running the same 2560x1440 resolution as the 5.7" Samsung Galaxy Note 4). It's no slouch in the performance department either, with a 2.5GHz Quad Core CPU and 2GB RAM.
Backed up by a 3000mAh battery, the LG G3 should keep even the most demanding users entertained and away from a plug socket for a whole day, while the new Laser Autofocus system means the 13MP camera with dual flash is capable of lightning-quick focussing even in low light conditions. Paired with Optical Image Stabilisation, this is a far more capable camera than you'll find in most other smartphones.
As with the G2, the G3 shows off an almost bezel-free form factor with the majority of the front of this device being Corning's tough Gorilla Glass 3. The power and volume buttons are, as with the G2, mounted on the rear just below the camera, leaving the front and sides free of any physical buttons. What appears to be a brushed metal back is actually polycarbonate (which occasionally goes by another name - 'plastic' - in case you were wondering) but as with Samsung's Note 4, it feels very sturdy and it's also removable, so you can change battery and get at the internal SIM and MicroSD card slots. Wireless Qi charging comes as standard on the G3.
We have detailed guides that show the networks and phone retailers that pass the most bad credit customers in our experience so see those resources first then check out the latest LG G3 deals in our comparison table below.
Latest deals for-
g3black
The G3 is a vast improvement over the G2, which was by no means a bad phone. The G2 took the industry by surprise and helped to establish LG as a major player at a time when it was largely Samsung, HTC and Apple at the forefront of the industry. The G3 has built on that success and is a much more refined device. It's clear that LG has listened to feedback on the G2, as the G3 addresses most of the concerns that were raised by users and reviewers. Size and performance-wise, this is a device that is positioned slap-bang between Samsung's 'S' series and the 'Note' series of phones and phablets and it likely to appeal to users of both.
APPEARANCE
The first thing that we noticed about the G3 was that it feels anything but unwieldy despite its generous proportions. Given that the screen is only 0.2 inches smaller than that of the Samsung Galaxy Note 4, it looks as though LG may have hit the sweet spot in terms of device size, as it's possible to use it with one hand with the minimum of adjustment. The Note 4 hovers on the upper limit in this respect. One of the design elements that we particularly like about the G3 is that of the rear-mounted buttons - aesthetically this makes the device look considerably more sleek as there are no side buttons to spoil its smooth lines and there are no hardware buttons on the front either. The result is an edge-to-edge approach with a minimal amount of bezel at the sides and not much at the top or bottom for that matter.
Build feels sturdy and it feels like a premium device despite the fact that it's predominantly (around 4/5ths) polycarbonate. The removable brushed-metal effect plastic rear cover fits snugly over the 3000 mAh battery, the SIM card and the MicroSD card slot. It feels substantially more solid than the Samsung Galaxy S5 (with its hideous fake metal bezel), but it's not going to trump the iPhone or HTC One M8 in the build quality stakes. As we've mentioned previously, another benefit of a plastic rear cover is that it should (theoretically at least) aid mobile signal reception.
It's immediately apparent how much of the bloat and guff LG have kept away from the G3 compared with its predecessor. The User Interface is a clean layer on top of its Android roots. Thankfully it seems that both LG and Samsung are beginning to learn this lesson.
There are three standard colours to choose from, these being the expected black and white and a fairly iffy and unconvincing gold colour, though that's obviously a matter of personal opinion if the sales of gold-coloured iPhones are anything to go by...
SCREEN
The display on the LG G3 is presently only rivalled by the Note 4. The 5.5 inch LED screen has a Quad HD 2560 x 1440 resolution which makes for a claimed pixel density of 538 PPI compared to 515 PPI for the Note 4 and the iPhone 6 and 6 Plus at 326 PPI and 401 PPI respectively. As we already know from camera comparisons, pixel count isn't everything - the colours can look a little washed out compared to the Super AMOLED offering on the Note 4, particularly in bright conditions. Some may say that this results in a more natural looking display, but it simply lacks the vibrancy of the superb screen on the Note 4.
PERFORMANCE
The G3 is powered by the Qualcomm Snapdragon 801 quad-core processor that runs at 2.5GHz and is paired with an Adreno 300 GPU. There's also 16GB of on-board storage and 2GB of RAM under there, which is enough, but frankly nothing to shout about. There is also a version of the G3 with 32GB storage and 3GB RAM. Whichever you go for, performance is as you'd expect - fast, smooth and effortless - this is one of a handful of smartphones that can really benefit from a side order of 4G.
CAMERA
The camera on the Note 3 consists of a 13 MP rear camera with Laser Autofocus and Optical Image Stabilisation. Dual LEDs provide the flashy bits and have different tones for producing realistic results in different lighting situations. The rear camera will record 2160p video at 30 FPS. The 2MP front camera is there to accommodate video calling as well as capturing your most narcissistic selfie moments - it will even allow you to set the self-timer with a hand gesture to aid you in looking your best when the shutter immortalises your chosen pose.
The main camera is excellent and the laser autofocus helps keep your shots blur-free, especially those involving rapid movement.
BATTERY
The battery in the G3 will take a fair old punishing before it gives up, but it's no match for the Note 4 despite the latter being considerably more powerful. You'll most likely get a full day of heavy use out of it, but you'll be charging this phone every night. If you really abuse it, you'll likely need to top it up at some point in between.
As with the majority of the Samsung range of phones, should the battery give out an an inconvenient moment, you can pop the back cover off and swap it for a spare. Something that is undoubtedly a hell of a lot more useful than a fixed metal or glass back. Tip: Watch nearby iPhone and HTC One M8 users shoot envious glances your way as you do this.
OTHER FEATURES
The G3 is one of the few phones to feature Qi wireless charging as standard. Adding this to other smartphones can cost you in the region of £50, without the charging pad.
Another feature which may or may not be of use to you is the IR blaster - infrared being something that largely disappeared from most mobile phones a decade ago but seems to be making a widespread return, with Samsung and HTC also implementing it in more recent devices. Essentially it gives you the ability to use your phone as a remote control for almost any infrared-controllable device. It's actually very useful and there are a number of 3rd party apps in the Google Play store that will allow you to take advantage of this. Even if you have a complex AV set up at home you can easily set will allow you to, change channel on your Cable/Satellite receiver, change the selected input on your TV and AV receiver and control your DVD / Blu-Ray player all from your smartphone. You can even set up macros to turn all of your home cinema kit on or off at once rather than having to reach for 4 or 5 separate remotes.
The phone also features NFC as you'd expect (but will likely never use) and a powerful speaker, albeit rear-facing in the same way as recent Samsung handsets. It's surprisingly loud and the quality is good, it just faces the wrong way...
OVERALL
The LG G3 is an excellent smartphone/phablet that packs superb performance into a well built, elegant design. The rear-facing buttons are unusual but easily adapted to, and once you're used to them being there, you're glad they are - they make more sense there despite bucking the usual trend of having things dotted around the sides. As devices get bigger, it's increasingly difficult to operate side-mounted buttons while keeping a firm hold of the device, especially one-handed.
Despite being 80% plastic, it doesn't feel like anything other than a premium device and the ability to swap out the battery is of far more significance to us.
Design aside, the excellent camera and the superb display are just two further examples of the huge leaps that LG has made since the G2, establishing themselves further as a credible alternative to the major players in the process.
*edit* G3 prices have fallen significantly since its launch, and given that it can be had at roughly half the price of the Note 4 (at time of writing, January 2015), it's impossible to think of any other smartphone that offers anywhere near as much value.
Cons? Such a pin sharp display could have a touch more vibrancy and we weren't overly impressed with the G3 battery life. It's still a fantastic smartphone and it's still up there with the best performance-wise - given the drop in price, it's never been such fantastic value for money.
VIDEO
<
PHYSICAL FORM
Height - 146.3 mm
Width - 74.6 mm
Thickness - 9.3 mm
Weight 149 g
Available colours - Black, White, Gold

SCREEN
Size (diagonal) - 5.5inches
Type - LED
Resolution - 2560 x 1440 (Quad HD)
PPI - 538

CONNECTIVITY
Wi-Fi support - 802.11a/b/g/n/ac Wi-Fi (802.11n 2.4GHz and 5GHz)
Bluetooth - Bluetooth 4.0 LE (APT-x) Wi-Fi - 802.11 a/b/g/n/ac
NFC
HDMI SlimPort
DLNA
Wi-Fi Direct

NETWORK
2G (GSM/EDGE)
3G (HSPA+42Mbps/HSPA+21Mbps)
4G LTE (SVLTE, CSFB, CA, VoLTE RCS, MIMO)

PROCESSOR
Manufacturer - Qualcomm Snapdragon 801
Model - Quad-core 2.46 GHz Krait 400

MEMORY
RAM - 2 or 3 GB

STORAGE CAPACITY
Internal - 16 or 32 GB
External - microSD, up to 128 GB

CAMERA
Resolution - 13 megapixels with Optical Image Stabilisation
Resolution (secondary camera) - 2.1 MP
Flash - Dual LED
Focus - Laser Autofocus
Video capture - UHD 4K (3840 x 2160) @30fps

SOFTWARE
Version - Android OS, v4.4.2 (Kit Kat) at launch, upgradeable to Android 5.0 (Lollipop)

PORTS
Headphone jack - 3.5mm
HDMI SlimPort

BATTERY
Capacity - 3000 mAh
Stand-by time (max, claimed) - 2G: 565 hours , 3G: 553 hours
Talk time (max, claimed)- 2G: 19 hours, 3G: 21 hours

See Latest LG G3 Deals