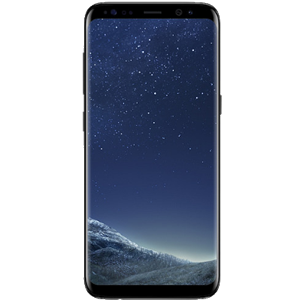 The Samsung Galaxy S8 and Samsung Galaxy S8+ are direct successors to the S7 and S7 Edge phones and were released in mid-2017.
Both the Samsung Galaxy S8 and S8+ phones are widely acknowledged as being superb Android mobile phones with a number of new features that mark them out as being superior to the previous incarnation of the Samsung Galaxy range of phones.
Even though there are two newer Galaxy phone models, the high specifications of the S8 mark it as being an excellent buy particularly now that prices have been reduced due to the age of the handset.
If you are looking for an excellent all round handset at a competitive price you won't find many better options that the Samsung Galaxy S8 or Samsung Galaxy S8+.
The Samsung Galaxy S8 and Samsung Galaxy S8+ currently represents one of the best value phone contract options on the market. They combine a high build quality and performance with an extremely competitive price point so if you are looking for a phone contract and you have bad credit, an S8 could represent a very good option.
The Samsung Galaxy S8 houses a large and powerful display in a bezel less display. The S8 has a 5.8 inch display with the S8+ housing a larger 6.2 inch screen with both displays curving towards the sides of the device.
Unlike previous Samsung Galaxy phones, the S8 does not have a physical home button, however there is pressure sensitivity built into the screen to represent a "home" button.
The phones can be purchased as either 64GB or 128GB capacity models, but there is also an expandable memory slot for microSDXC cards of up to 256GB in capacity.
The S8 houses a 3000 mAh capacity battery, whereas the S8+ has a battery upgrade at 3500 mAh and in a move away from previous Galaxy S phone models, both S8 models use USB-C charging ports as opposed to the MicroUSB of older phone models.
On the whole both the S8 devices are excellent phones, with only two notable criticisms to the models. On both the Galaxy S8 and Galaxy S8+ models Samsung chose to house the fingerprint security reader on the back of the phone. In hindsight this must seem like an error to the company. Also the Samsung personal assistant software Bixby is noticeably inferior to the Apple equivalent in Siri. This may be ironed out over time but it is a notable weakness compared to Apple. However, barring those two criticisms the S8 and S8+ are definitely phones worthy of consideration if you want to marry low cost with a high spec phone.
Check out the latest Samsung Galaxy S8 and Samsung Galaxy S8+ deals on our comparison tool. Remember if you are looking to get an S8 on bad credit you may want to look at refurb models or pay a deposit towards the phone.
SAMSUNG GALAXY S8 SPECS VIDEO

SAMSUNG GALAXY S8+ SPECS VIDEO