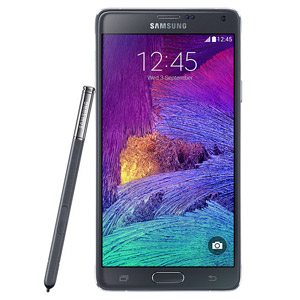 Currently showing deals for:
galaxynote4black
Select other variants / colours from the drop-down box to see the best available deals:
The Samsung Galaxy Note 4 is the latest in Samsung's popular flagship Galaxy Note series, and builds upon the huge success of the Galaxy Note, Galaxy Note 2 and Galaxy Note 3 smartphones. The Note 4 feautures a stunning 5.7" Quad HD Super AMOLED display, fantastic specifications and a whole host of features - not least Samsung's unique S-Pen smart stylus. While it could be dismissed as being 'gimmicky' if you've not tried it, Samsung has done something that many manufacturers have struggled with in recent years - they have actually added something new and genuinely useful!
Featuring a blisteringly-fast 2.7GHz Quad Core processor and 3GB RAM, 64GB on-board storage, MicroSD card support up to 128GB, a superb 16MP main camera and a 3.7MB front-facing camera for those selfie moments, this a seriously high-end device that won't keep you waiting, and will also ensure that you're not keeping such a close eye on your next upgrade date.
As with most high-end smartphones and phablets, the cost of the device is comparatively high, so it is unlikely that you will find a provider that offers a guaranteed deal on a Samsung Galaxy Note 4 or a no credit check Note 4 as it has a SIM-free price in the region of £600! That said, we do have detailed guides that show the networks and phone retailers that pass the most bad credit customers in our experience so see those resources first then check out the latest Note 4 deals in our comparison table below.
Latest deals for-
galaxynote4black
The latest iteration of the popular Galaxy Note series of smartphones phones from Samsung is the Note 4 which continues to build on the deserved success of the previous Galaxy Note devices.
APPEARANCE
One of the most immediate improvements over the Note 3 and Note 2 is that of the aesthetics. Gone is the shiny, cheap-looking (and cheap-feeling) faux-metal bezel that adorned previous Galaxy Note models and as well as the otherwise excellent Galaxy S5. This is perhaps the only area where Samsung has still found itself still playing catch-up with Apple in recent times. It seems as though the South Korean consumer electronics giant has finally listened to consumers and reviewers alike, and it has drastically improved matters with the Note 4. For the first time, Samsung have given the latest incarnation of its flagship phablet a beautifully sculpted and subtly-chamfered metal bezel with metal buttons. It feels immeasurably better for it. Turning the device around reveals more good news – the awkward faux-stiched faux-leather has also been replaced, no doubt sparing the lives of countless plastic cows in the process...
Yes, the back may still be plastic, but there's not a single hint of flex or squeak in this department despite it being easily removable. The subtle grainy texture makes the phone sit very securely in the hand - and let us not forget the benefits of a removable back – MicroSD card support, better mobile signal reception and not least, the ability to swap out your battery for a spare should you somehow exhaust the Note 4's generous 3220mAh unit.
This is a premium device that finally feels like a premium device, yet despite packing in so much power and functionality, a plethora of sensors and a whopping battery, it's still tremendously svelte - at a mere 8.5mm thick - but then lets face it; you're going to put a case on it anyway aren't you...
There are three colours to choose from, these being black, white and gold - black is seemingly the most popular.
SCREEN
The display on the Samsung Galaxy Note 4 is, (LG G3 aside), simply unrivalled. The 5.7 inch Super AMOLED screen has a Quad HD 2560 x 1440 resolution which makes for a pixel density of 515 PPI - far in excess of current flagship Apple devices, the iPhone 6 and iPhone 6 Plus at 326 PPI and 401 PPI respectively. Ebooks and films are easy to digest on such a screen and web browsing is effortlessly easy.
Samsung's Super AMOLED display technology is nothing new in itself, but it has no need to be - in the Note 4 it produces a vibrancy that other displays lack. The colours are tremendously vivid, and the brightness is adaptive when 'auto' brightness is enabled; by monitoring ambient lighting conditions, the screen brightness is dynamically adjusted to save battery power in dark situations, while boosting output in direct sunlight to aid reading in situations where other displays would be nigh-on impossible to read.
The Galaxy Note 4 takes this stunning display and adds the S-Pen functionality to it - something that you won't find on any other smartphone. More on that below.
PERFORMANCE
Spec-wise, the UK version packs a a Qualcomm Snapdragon 805 quad-core processor that runs at 2.7GHz and is paired with an Adreno 420 GPU and backed by a hefty 3GB of RAM. There's no perceptible lag when scrolling through lengthy web pages or apps. Rumours of an updated version with a Spapdragon 810 64-bit CPU have been circulating for a little while, although whether or not this will hit UK markets at all remains to be seen.
With 4G LTE as standard on the phone, a 4G-enabled contract is a must. Coverage permitting, web pages load in an instant and app downloads and updates are a very snappy affair. Stick it on an 802.11ac WIFI network and you'll see the same blistering performance.
With a total of 3 microphones for epic background noise-cancelling, the call quality on the Note 4 is arguably the best we've ever experienced.
One thing that did surprised us about the Note 4 is Samsung's decision to revert to USB 2.0 despit both the Note 3 and Galaxy S5 featuring USB 3.0 host controllers. Samsung's reasoning here that it wasn't actually necessary and that is was probably overkill in the other devices. Data transfer on the Note 4 is brisk enough as it stands, so they may have a point, although can 'too fast' ever be a bad thing?
In terms of raw power, the Note 4 has few outright rivals. The iPhone 6 and 6 Plus and the LG G3 come close and have been seen to beat the Note 4 in some benchamark tests, losing out in others. Real-world tests are far more relevant however.
CAMERA
The camera on the Note 4 consists of a 16 MP rear camera with Optical Image Stabilisation and HDR. A single LED provides the flash and also makes for a very decent torch. The rear camera will record full UHD 4K (3840 x 2160) at 30 FPS. A greatly improved 3.7MP front camera is provided for those ubiquitous selfies.
The Note 4 ships with a number of camera modes and more can be downloaded free of charge from Samsung's own app store. For those who like to fiddle about, ISO, white balance, exposure, auto-focus and a host of other camera settings can be tweaked to your liking and situation.
Performance of the main camera is exceptionally good, even in low light.
BATTERY
The Note 4 is one of very few high-end phablets that can last for a full day without the need for it to be re-charged - even when the phone is used heavily. Take off the back cover and you'll find a 3220mAh battery occupying a good chunk of the insides. That, coupled with Samsung's Super AMOLED adaptive display technology and a variety of power-saving options will please all but the most extreme smartphone users.
That said, if you find yourself near a power outlet, the Note 4 can reach 50% charge from flat in just 30 minutes with the included smart charger, and the new Ultra Power Saving mode can apparently eek out a whole additional 24 hours from the last 10 percent of battery if needed, and it does this by killing off all but the bare essentials.
QI Wireless Charging would have been nice on a device costing £600, but it's available as an add on - either via the pricey S-View Wireless Charging Cover which replaces the rear cover of the Note 4 (and will set you back around £50 without the charging pad) or 3rd party Qi receivers costing ca. £20 which simply fit between the battery and the rear cover.
It should be noted (every pun intended) that the Note 4 will charge more slowly if these options are used - Qi charge outputs being around 500-700mA compared with up to 2A for the bundled Samsung fast charger. Also, 3rd party Qi receivers can also affect NFC performance.
Should the worst happen you can simply remove the back cover and pop in a spare battery. Take that, iPhone users...
OTHER FEATURES
Perhaps the Note 4's most useful feature that you won't find anywhere else is the S-Pen. Pressure-sensitive and with its own suite of apps and support built in to Samsung's TouchWiz Android user interface, the S-Pen offers a degree of functionality unmatched by any other smartphone or phablet.The S-Pen is perfect for highly accurate image editing, handwriting recognition, gestures, or even creating your own digital masterpiece. It's greatly improved over the Note 3 offering, which wasn't bad by any means.
Select an area of your screen, draw on it, annotate it and share it to any number of social platforms in seconds. There are far too many possibilities and compatible apps to list here!
As well as the S-Pen and the usual array of useful and useless gadgets to be found on such devices, the Note 4 packs in a few extras for good measure, such as a barometer and a very useful IR blaster. With a few minutes spent setting it up, you can turn even your Note 4 into a handy replacement for all of those remote controls you've got piled up next to the sofa.
Samsung has incorporated the fingerprint sensor from the S5 and this is arguably the weakest point of the Note 4. It's generally reliable enough, but it'll often take you a few swipes to unlock your phone if you choose to use it. It's nowhere as elegant as Apple's fingerprint reader solution.
As with the S5 you'll find a heart rate and blood pressure monitor nestled next to the camera flash, and there's even a UV sensor that also ties in with the bundled S-Health app to warn you about the current risks of staying out in the sun for a protracted period.
OVERALL
No spectacular leaps forward over the excellent Note 3, and that's not meant as a criticism. Build quality, a brilliant camera and extremely zippy performance are the highlights, while the S-Pen will either become your new best friend or will be spend its life in its slot in the bottom of the phone. Either way the Note 4 isn't going to disappoint you.
It's not a small device by any means but there are options to make one-handed operation easier for those with smaller hands, and in fairness you do get used to that gorgeous, huge screen very quickly indeed - to the point that within days you begin to wonder how you managed with anything smaller. The screen size and usability are such that if you own a tablet, you may well find it gathering dust from now on...
Cons? Well, If we're honest, although it's a lot better than previous attempts, Samsung's TouchWiz UI still leaves a bit to be desired. It can be fairly clunky now and again and in general is not quite as polished as iOS 8 but then its also far more configurable and less restrictive, so it depends on what you want most. A power user will simply change out the bits they don't like - a luxury that Android affords them.
VIDEO
PHYSICAL FORM
Height - 153.5 mm
Width - 78.6 mm
Thickness - 8.5 mm
Weight 176 g
Available colours - Black, White, Gold

SCREEN
Size (diagonal) - 5.7 inches
Type - Super AMOLED
Resolution - 2560 x 1440 (Quad HD)
PPI - 515

CONNECTIVITY
Wi-Fi support - 802.11a/b/g/n/ac Wi-Fi Dual Band
Bluetooth - Bluetooth 4.1 (A2DP, AVRCP, DI, HFP, HID, HOGP, HSP, MAP, OPP, PAN, PBAP, SAP) GPS - GPS, Glonass, Beidou NFC Wi-Fi Direct IR Blaster USB 2.0 MHL
NETWORK
2G GSM, 3G WCDMA, 4G LTE FDD
2G GSM - GSM850, GSM900, DCS1800, PCS1900
3G UMTS - B1(2100), B2(1900), B5(850), B8(900)
4G FDD LTE (CAT 6 300MBPS)- B1(2100), B2(1900), B3(1800), B4(AWS), B5(850), B7(2600), B8(900), B17(700), B20(800)
PROCESSOR
Manufacturer - Qualcomm Snapdragon 805
Model - Quad-core 2.7 GHz Krait 450

MEMORY
RAM - 3 GB

STORAGE CAPACITY
Internal - 32 GB
External - microSD, up to 128 GB

CAMERA
Resolution - 16 megapixels with Optical Image Stabilisation
Resolution (secondary camera) - 3.7 MP
Flash - LED
Focus - Autofocus
Video capture - UHD 4K (3840 x 2160) @30fps

SOFTWARE
Version - Android OS, v4.4 Kit Kat, 5.0.0 / 5.0.1 Lollipop due soon. (ETA Jan 2015)

PORTS
Headphone jack - 3.5mm
Video out - Yes (MHL)

BATTERY
Capacity - 3220 mAh
Internet Usage Time(3G) (Hours)
Up to 10
Internet Usage Time(LTE) (Hours)
Up to 11
Internet Usage Time(Wi-Fi) (Hours)
Up to 12
Video Playback Time (Hours)
Up to 14
Audio Playback Time (Hours)
Up to 82
Talk Time (3G WCDMA) (Hours)
Up to 20


See Latest Samsung Galaxy Note 4 Deals